Ukraine: the United Opposition Fatherland to denounce fraud — Lombardi nel Mondo
Ukraine: the United Opposition Fatherland to denounce fraud
The United Opposition Fatherland coordinator Oleksandr Turchynov accused the President Viktor Yanukovych for several violations of electoral rules. Also the European Union yet noticed several frauds by the pro-presidential Party of Regions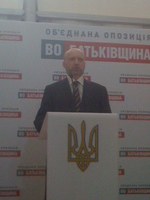 Kyiv – The election is going to be characterized by several irregularities, but the United Opposition Fatherland is going to observe the development of the consultation with a strong attention.
On Sunday morning, the United Opposition Fatherland coordinator Oleksandr Turchynov, noticed that the most important opposition political force has dislocated a large number of private observers in electoral pool, in order to take an eye on the election development.
According to Turchynov, the United Opposition is also going to organize a parallel vote's counting after pool station will close.
Turchynov denounced that central electoral commission members have been appointed by Viktor Yanukovych presidential administration, in order to modify the electoral result in favour of the pro-presidential Party of Regions.
Turchynov denounced also an e-vote manipulation and noticed that several United Opposition Fatherland observers have not been allowed into the pool stations.
"President Yanukovych administration also used opinion pools to decrease the role of the United Opposition Fatherland, giving more support to the other UDAR opposition party" told Turchynov in response to Lombardi Nel Mondo correspondent in Kyiv public answer.
According to informations by the European Commission, the Party of Regions used national budget money to finance its electoral campaign, and provided electoral meetings in public administration's sieges in the central-eastern regions of Ukraine.
Moreover, irregularities have been noticed for what concerns far-right party Freedom, in particular in the western part of the country.
According to last opinion pools, the ruling Party of Regions is to win the election over the United Opposition Fatherland and UDAR party, led by former boxing champion Vitaliy Klychko.
According to the EU official statements, just a free and fair election can ensure Ukraine a Kyiv integration process in Europe continuation.
The EU and the USA strongly criticized the absence in the election of United Opposition Fatherland leaders Yulia Tymoshenko and Yuri Lutsenko, who had been arrested after irregular trials.
According to RIA Novosti correspondent in Kyiv, former Ukrainian PM Yulia Tymoshenko and former Ministry of Interior Affairs Yuri Lutsenko are going to vote in the prison.
Matteo Cazzulani
Document Actions